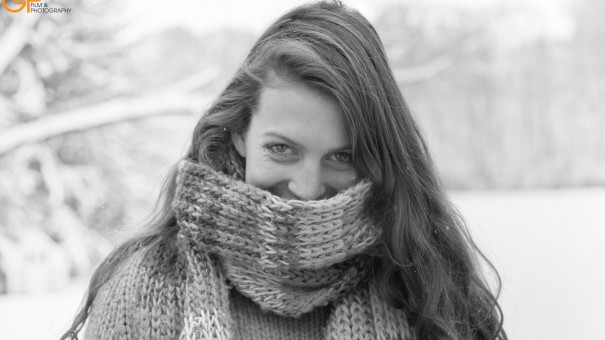 I decided to take the Mark iii for a walk downtown for the first snowy Sunday in Lancaster.  The goal was to practice double exposure.  My friend Karlo, of Karlo Photography, introduced me to the double exposure capabilities built in to the canon 5d Mark iii, and the snow seemed an appropriate test subject with my friend Emily Leslie.  The idea is to capture the subject with a blown out background for the first shot, and then capture some type of organic texture with the second shot.  The textures from the second shot will appear through the darkest areas of the first photograph, creating a double exposure.
After playing with the double exposure method, Emily and I walked towards downtown Lancaster to see what else looked unique under the white blanket of snow.  I was caught by Steinman Park and the reflections of the lit trees on the wet bricks.  To capture the full luminance of the scene I combined multiple exposures and tonemapped the HDR version.
En route to Irish Coffees at Annie Bailey's, we snagged one more shot of the fountain and Lancaster Square.  This shot is an extended exposure, with the shutter open a full 30 seconds.
Read more →