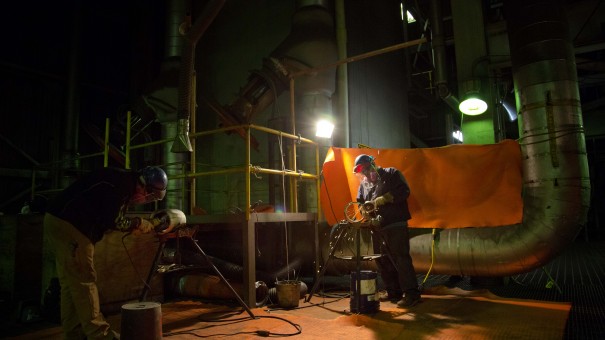 My most recent architectural photography session took me to a power plant near of Pittsburgh, PA. The trip was commissioned by Day & Zimmermann. The goal was to capture media for use in print advertising as well as online.
It was scheduled as a full day of shooting, leaving Lancaster at 8:00 am and returning around 11:30pm.  After a safety debriefing, we started our tour of the plant.  The massive structure was crawling with workers welding, cutting, and stacking.  For the morning session I concentrated on the interior of the plant and the workers themselves.  While I did use an on camera flash for some of the shots, a good portion were shot in natural light.  For obvious safety reasons, work areas were very well lit and offered a great contrast against the naturally dark structure.  Even at high noon, very little light penetrated the facility.
After lunch we drove around the plant on back-roads, looking for scenic shots of the plant in its entirety.  Once we found a high enough perch, we waited for night to fall.  I got a chance to experiment with some HDR (high dynamic range) shots and the multiple levels of lights adorning the facility.  The nature of architectural photography and shooting large scale scenes can certainly try ones patience.  Waiting to watch the sun go down was a drawn out and 2 hours, but offered a wide range of lighting for the architectural photography.
Read more →