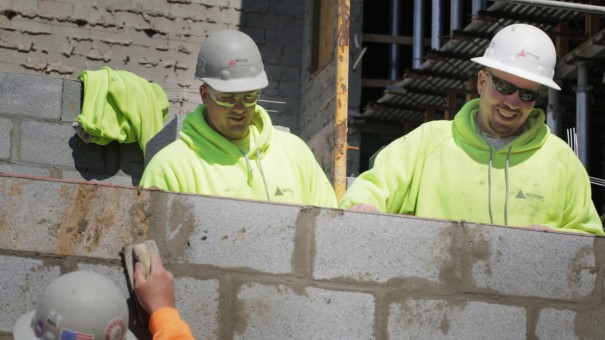 When I learned that we would be helping a construction company with some video work I was excited.   The goal was to create a recruiting video for existing students in trade and other secondary schools. I knew it would offer lots of great opportunities for intense footage.  Then we found out it was specifically a masonry group, and I was even more amped up.  It seemed like a great mix of construction and artisan talent with some personality to it.  The Witmer Group did not disappoint.  Employees were excited about their careers, proud of what they've accomplished and hungry for education and training.
Working with The Witmer Group was an exciting and new experience for us.  Every day was a new construction site, technique, material or work dynamic.  Learning about the different processes was crucial to filming the sequences of action, but it was also naturally interesting to see how large scale construction still requires brick by brick physical labor.
From the office to the field, the comradery was apparent with The Witmer Group.  Everyone seemed to enjoy each others company throughout the work day, even while we interviewed them after a full day on the job they were fun and laid back.  From the interviews it was clear that people working for The Witmer Group strive to help each other learn and progress in their respective fields to help retain the standard of excellence that they subscribe to as a company.  
Read more →